Wedding Photo Restoration
0191 268 4473
I created this Special Photo from a snap-shot I took nearly 20 years ago. In the original photo; the bride was sitting in the back seat of a car and the background was very distracting.
I restored the photo with great care to avoid the tell-tale edge-silhouette often seen when a "magic-wand tool" is used to remove background detail. Restoration or in this case Renovation with a little patience results in a seamless transition from portrait to landscape. The replacement background sepia-photo is "Cat Bells" in the Lake District.
The car in the background completely destroys the composition of this impromptu Snap-Shot.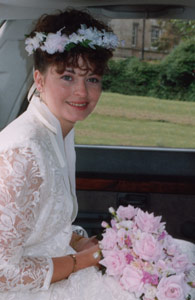 "Adding a little Wedding Day Magic"
The first intention - Removing that distracting car and highlight on the wood trim.
It seemed obvious after that - "Why stop at the car?"
Creating Aesthetic Portraits from Less than Perfect Snap-Shots
A lot of Special Photos are never displayed because of slight mishaps that spoil the composition. How many photos do you have where comments like this apply:-
"Nice BUT It looks like there's a tree growing out of their head"
"I love that one of you BUT It's a shame all those people are in the background"
"Great picture BUT the background's distracting"
If the subject of your photo is good then we can transform it into a Great Picture.
Restoration Tip
Whatever the problem, there's always a solution. Using digital restoration techniques it's possible to replace missing details. If you have more than one photograph it's even possible to "borrow-detail" from a contemporary picture to create a missing piece.

Mobile Phone Photo Converting - Restoring